14th Annual
BHF

– CANCELLED

Despite the current pandemic, BBR is proud to continue our tradition of donating a set of Malmark choirchimes to a local school this spring, thanks to a generous underwriter.
Back Bay Ringers is proud to announce the 2020 recipient of Malmark Choirchimes. 
Established in 1639,
Mather Elementary School
in Dorchester is the oldest free public school in North America.  Today it serves over 600 students in grades K–5.  The curriculum recognizes music as a culture-infused language with which all students can become fluent.  The musical focus reflects ancestral homes of the families we serve—US, Vietnam, the African diaspora, Europe.  A highlight of the program is participation in school cultural assemblies in which music is featured.  The music program is currently continuing online until the building is again accessible.
Music teacher Kera Washington is a percussionist and ethnomusicologist who bases curriculum and performance around cultural expression through music.  In addition to teaching at Mather, she also teaches African drumming and dance in ensemble settings at Wellesley College and with Zili Misik percussion ensemble.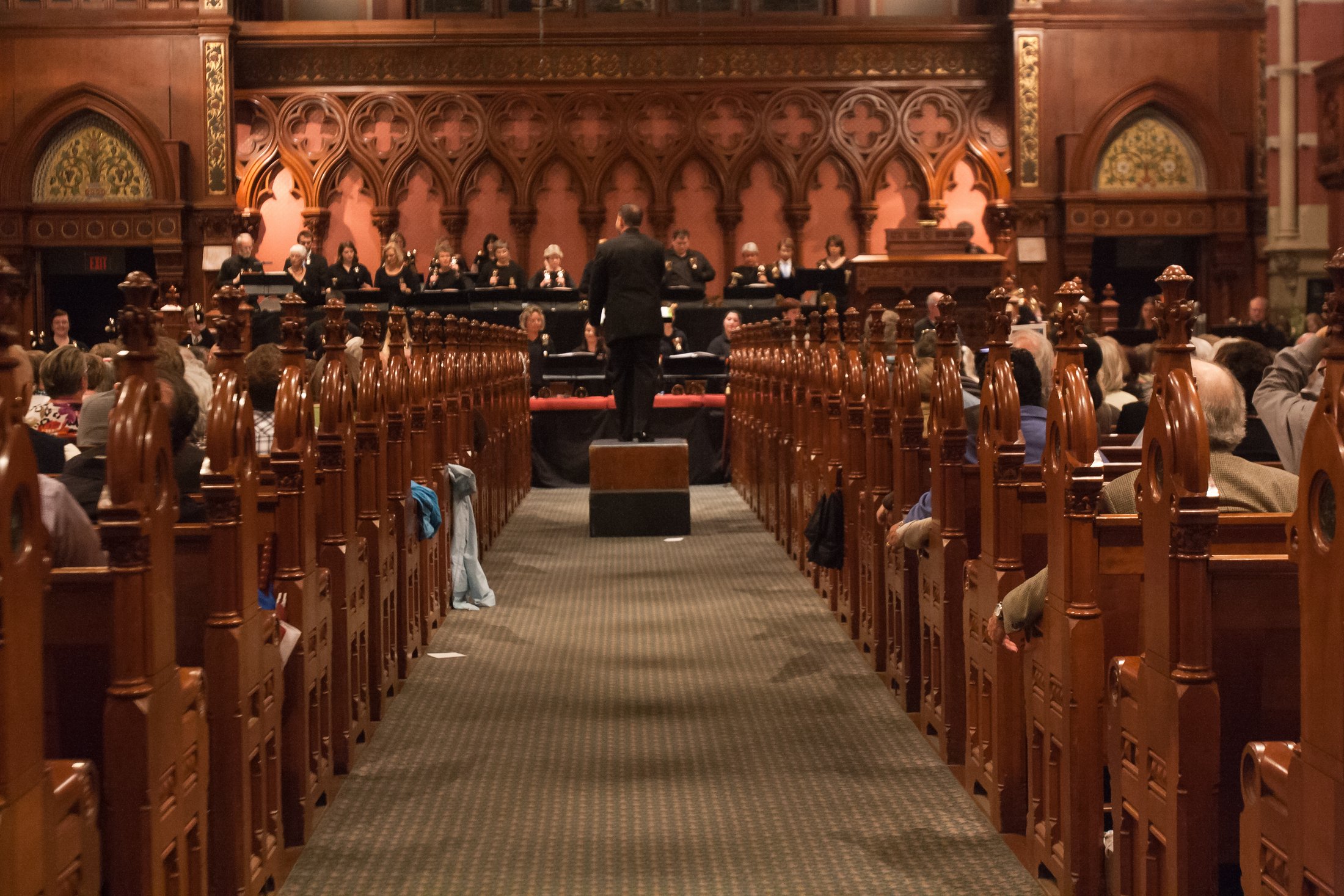 Boston Handbell Festival Massed Ringing
On the third Tuesday of May,
Old South Church
plays host to the Boston Handbell Festival, an annual celebration of handbell musicianship co-sponsored by the Back Bay Ringers and Old South.
The Boston Handbell Festival brings together local community handbell ensembles–the Back Bay Ringers, Merrimack Valley Ringers, New England Ringers, and Old South Ringers–and an invited guest choir, for an evening of massed and solo ringing in Old South's beautiful sanctuary. The concert is free and open to the public. Many audience members at the BHF are seeing handbells for the first time! They've been treated to an enormous variety of performances, including pieces that included choreography, singing, baseball hats, or pirate costumes, as well as a memorable massed piece involving five choirs and Old South's stunning Skinner pipe organ.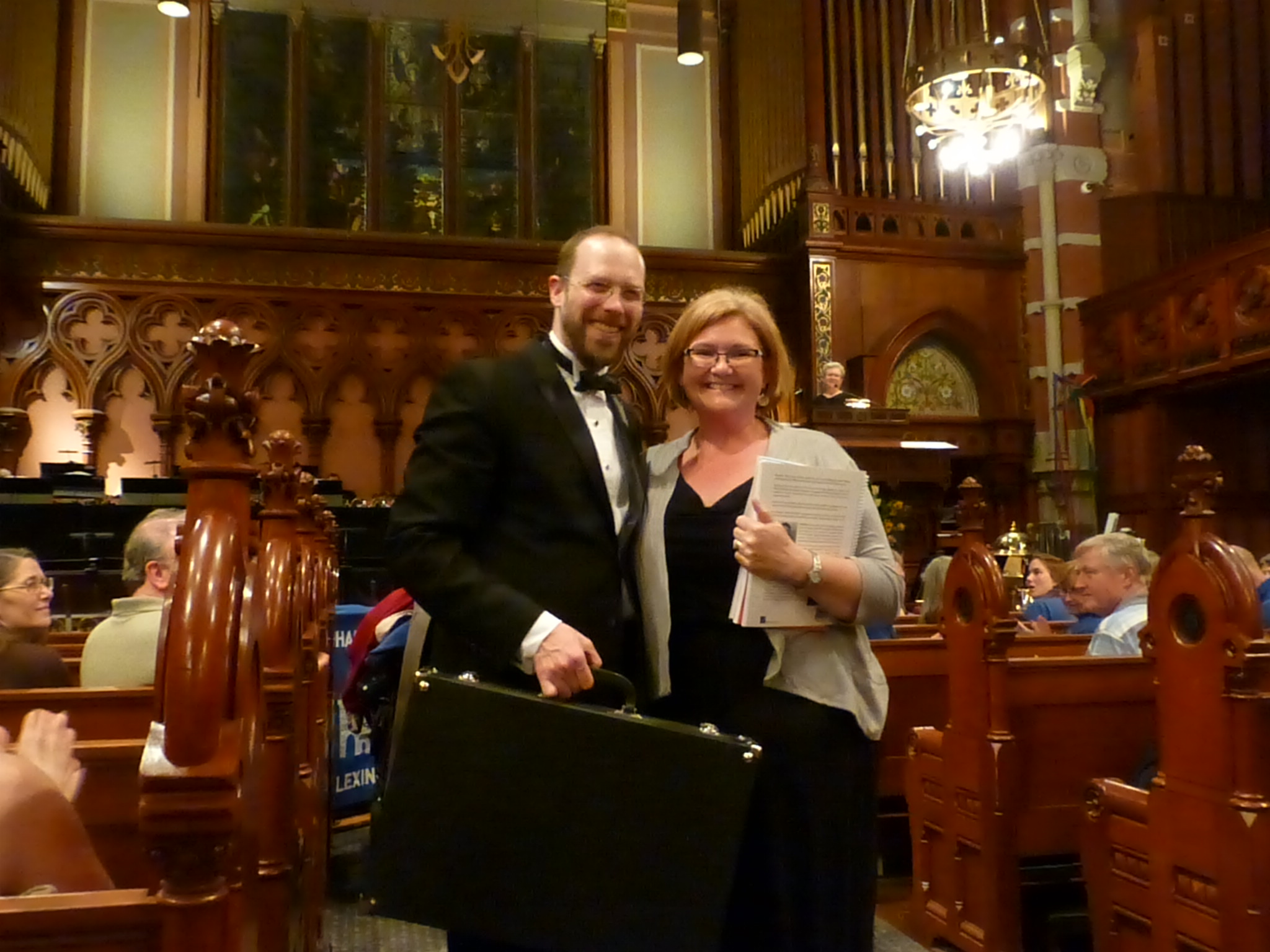 2015 Choirchime Donation
Founded to honor the tradition of the Perkins Handbell Festival, originated by Adele Trytko of the Perkins School for the Blind, the festival also prioritizes BBR's commitment to education, as 100% of BBR's proceeds from the evening's free-will donation goes to support our chime donation program.
The Boston Handbell Festival committee invites applications from Boston-area schools who wish to integrate chimes into their own music programs.
At a ceremony at the BHF, the selected school is presented with a two-octave set of Malmark Choirchimes and a packet of music appropriate for use with young musicians. The selected music teacher also receives a one-year mentorship with BBR Artistic Director Griff Gall, an elementary music specialist who successfully incorporates chimes into his music curriculum. We're very proud to think of how many young musicians are being introduced to ringing instruments through the success of the BHF and the chime donation program!

Past Guest Choirs
Bedminster Bells of Bedminster, NJ
Perkins School for the Blind Handbell Ensemble
Past Choirchime Recipients
2009: Alexander Hamilton Elementary School, Brighton
2014: Wood End and Birch Meadow Schools, Reading
2015: JFK School and South School, Holbrook
2016: Watertown Middle School, Watertown and Donald McKay School, East Boston
2017: Willis E. Thorpe Elementary School, Danvers
2018: McAvinnue Elementary School, Lowell
2019: Oakdale Elementary School, Dedham