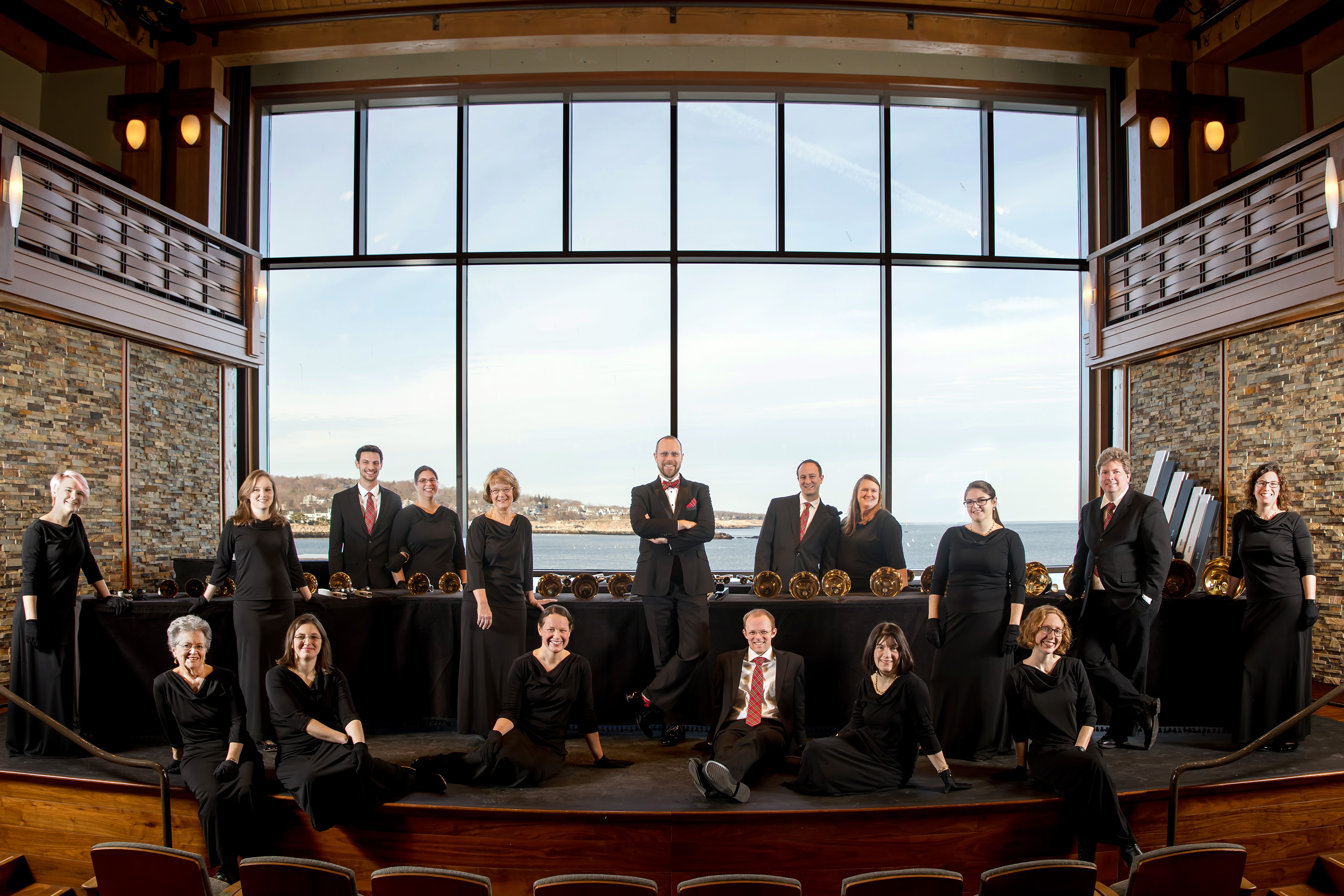 2022 Back Bay Ringers
Peter Grossmann
Bass Section Leader
Joined BBR: September 2013
Peter has rung with the Lacey Presbyterian Church Youth Handbell Choir and the Claremont Presbyterian Church Ringers. He also currently rings handbells and tower chimes with the Christ Church Cambridge Handbell Choir. Peter also dabbles in solo and duet ringing and has performed as a soloist for various special occasions and a live streamed concert in 2020. He holds a PhD in computer engineering from Northeastern University and designs microchips at Zero ASIC.
Sarah Hayes-Skelton
Joined BBR: September 2009
Sarah started ringing handbells in 2006 while she was living in Seattle. She also has rung with the Old South Ringers in Boston's Copley Square. When not ringing, Sarah is a psychology professor at UMass Boston.
Ashley Hedberg
Joined BBR: September 2017
Ashley began ringing in 2001 as a third-grader at River Road Presbyterian Church in Richmond, VA. She graduated from the Tufts University School of Engineering in 2015, ringing with Harvard-Epworth United Methodist Church while a student there. Ashley is a software engineer at Google and enjoys powerlifting and cooking.
Emlee C. Kohler
Secretary
Joined BBR: January 2019
Emlee has been ringing handbells since 1977. In addition to BBR, she has recently been a member of the Granite State Ringers, in Manchester, NH and Ringers-on-the-Square at the UCC in Keene, NH. Although now she primarily rings in the bass section, she also performs solos, duets, and in small ensembles. Emlee holds a PhD in Neuroscience, works as a psychology professor at Rivier University, Nashua, NH, and spends her non-ringing time with her husband, Howard.
Stephanie LaShoto-Westfield
Communications Director
Joined BBR: September 2012
Stephanie began ringing in 7th grade at Moses Brown School in Providence, and has rung on and off with the Old South Ringers in Copley Square since 2008. Stephanie works as a Workforce Development Specialist supporting employees of the Mass General Brigham hospital network and enjoys baking, hiking, jigsaw puzzles, and dogs!
Emily Lindquist
Joined BBR: September 2021
Emily began ringing handbells with her church choir in Topsfield, MA when she was in third grade. After a brief hiatus while in college, where she focused on playing her other instrument, the flute, she moved back to the Boston area and began ringing on and off with the handbell choir at Faith Lutheran Church in Andover and the Hancock Carillon in Lexington. Just like when she was in third grade, she happily rings alongside her mother, Susan Schultz. Emily is an education consultant at a small firm in Jamaica Plain.
Donna Matson
Joined BBR: September 2007
Donna started ringing in 1994, when her children began as well. She has played with Katonah Celebration Ringers and a community choir in Tokyo, Japan. She and her husband, Bill, are retired, and split their time happily between the South End and a peaceful lake in New Hampshire.
Austin McCredie
Joined BBR: September 2022
Austin has been ringing since he was 9 years old. He has been a part of local church choirs in his hometown of Round Rock, TX, as well as the Agape Ringers in Chicago and Austin Handbell Ensemble. After teaching middle school and high school US History for 6 years, Austin began his MTS degree at Boston University's School of Theology, with hopes to pursue a PhD as well. In his free time, Austin enjoys hanging out with his cats, reading, photography, and checking out new cafes and bars.
Sally Meredith
Joined BBR: January 2012
Sally began ringing (with poor technique!) in 1981, before some current BBR members were born! She rang with church groups in Illinois and Wisconsin, and was a founding member of Madison Area Concert Handbells in Madison, WI, where she learned good technique, in 1997. She moved to Massachusetts to be near a quartet of lovely, talented grandchildren.
Rachel Moore
Joined BBR: September 2018
Rachel began ringing in middle school at Trinity United Methodist Church in Springfield, MA. She attended Carleton College where she was often found conducting and ringing at the same time in a bell choir that never had enough members. When not ringing, Rachel works as a technical operations engineer.
Cade Murray
Executive Director
Joined BBR: September 2010
Previously, Cade rang with Bay Bells near San Francisco and a series of church choirs before that, stretching all the way back to his high school years in Florida. Cade has rung all over the table, doing solo, ensemble, and full choir ringing; though now finds himself primarily in the bass (punishment for being left-handed?). Cade left the world of high-tech startups to homeschool his two daughters, while his wife responsibly holds down a regular job so everyone can eat.
Anna Poplawski
Treasurer
Joined BBR: January 2013
Anna began ringing in 4th grade, and remained active in her church bell choir in Endicott, NY until she graduated from high school. She joined BBR in 2013 after a 20-year hiatus from bell-ringing. When not ringing, Anna works as a software developer and has performed in musicals with various community theater organizations.
Emily Schlosnagle
Joined BBR: September 2018
Emily's love of handbells began in elementary school after her dad took over directing the church's bell choir and she quickly realized that ringing is much more fun than doing homework during rehearsal. She continued ringing through college,as a member of the St. Olaf Handbell Choir. Emily is now a research project manager at Dana-Farber Cancer Institute.
Susan Schultz
Operations Director
Joined BBR: September 2009
Susan's musical training began as a child, studying and playing the violin through her college years. She began ringing handbells in 2003 with her three children at Trinity Episcopal Church of Topsfield, MA. In addition to ringing with BBR, Susan rings with the handbell choir at Faith Lutheran Church in Andover, MA, and with Hancock Carillon in Lexington, MA. Susan serves as both the Archivist and Registrar for the New England region (Area 1) of the Handbell Musicians of America. She is a frequent participant at Area 1, National, and International handbell events, and has had the privilege to ring at all HMA Distinctly Bronze events since 2014.
Erica Shaw
Joined BBR: September 2022
Erica began ringing at South Church in Andover in 2013. After taking a few years off for college, she now rings with Old South Ringers in Boston. Erica works as a structural engineer and enjoys swing dancing, playing board games with friends, and spending time with her partner, Sam, and their cat, Cheddar.
Casey Spring
Joined BBR: September 2022
Casey has been ringing handbells for fourteen years, and this will be her first year with BBR! She began ringing at Smoky Hill United Methodist Church in Colorado and now also rings with the Old South Ringers! When not ringing, she is a second year law student at Boston University. She enjoys spending time with her family and dogs (Doughnut and Wadsworth)!
Greg Urban
Treble Section Leader
Joined BBR: September 2014
Greg grew up ringing in both school and church. He founded the Oregon State Handbell Choir in 2011, and began ringing with Bells of the Cascades in Portland, OR soon after. When he moved to Boston in 2014, he found BBR and hasn't left! In January of 2021, Greg also began ringing with Sonos Handbell Ensemble out of Oakland, CA. He is also an avid arranger of pop music for handbells, including BBR-favorite All I Want for Christmas is You. Outside of bell ringing, Greg is a Trainer and Facilitator at Project Adventure, using a combination of games/initiatives, low ropes, and high ropes elements to develop group awareness, communication, and trust with people of all ages. He also enjoys finding new places to hang a hammock, board games, and eating his husband's amazing cooking.
Adrianne Weir
Joined BBR: September 2003
Adrianne first rang at her parochial school in 6th grade (a fun fact is that the nun who directed the choir was actually her second cousin). She continued ringing in college at the University of Notre Dame. After moving to Boston, she joined the bell choir at Trinity Church in Copley Square, whose director was Griff Gall. When BBR began in 2003, Adrianne was at the first rehearsal. She is an architect, working for a small residential firm with a focus on renovating older homes.