BBR is dedicated to promoting innovation & excellence in handbell artistry through performance, education, and community.
Back Bay Ringers (BBR) is an advanced, auditioned community handbell ensemble based in Boston, Massachusetts. Founded in 2003 as the nation's first open and affirming handbell ensemble dedicated to friends and members of the LGBTQIA+ community, BBR has quickly developed a reputation for excellence with performances at the Shalin Liu Performance Center, Symphony Hall, the Boston Children's Museum, and the Prudential Center, and has collaborated with renowned local arts organizations including The Handel and Haydn Society, The Boston Pops, Coro Allegro, and the Boston Children's Chorus. 
Under the leadership of artistic director Griff Gall, BBR has grown into one of the country's most innovative handbell organizations. In its short history, BBR has founded the Boston Handbell Festival, an annual celebration bringing together the region's best community and church handbell ensembles, with proceeds donated toward the purchase of handchimes for a selected Boston-area school. BBR has also commissioned multiple original works and arrangements, sponsored workshops with noted handbell composers, and performed throughout the Northeast. Perhaps one of the most unique collaborations for our ensemble was in 2014 when the ensemble was invited to perform part of the soundtrack for an episode of 48 Hours. In 2016, BBR was a featured performing ensemble at the Handbell Musicians of America National Seminar. BBR's members and directors have become leaders in the national handbell community as clinicians, organizers, and administrators.
Back Bay Ringers' commitment to community has led to the development of our Season of Giving Back concerts during the spring season, where BBR has supported partner organizations that serve the Greater Boston area in striving for social justice issues. Previous partners have included LGBT Asylum Task Force, Boston Living Center, and Stop Handgun Violence.
BBR has produced three recordings. BBR's first recording, Merry and Bright: A Celebration of Carols with the Back Bay Ringers, was released in 2007, Perpetual Motion was released in the summer of 2010, and the ensemble's latest recording, Comfort and Joy, was released in December 2013. The first two of these recordings are now available in a digital format wherever digital music is available.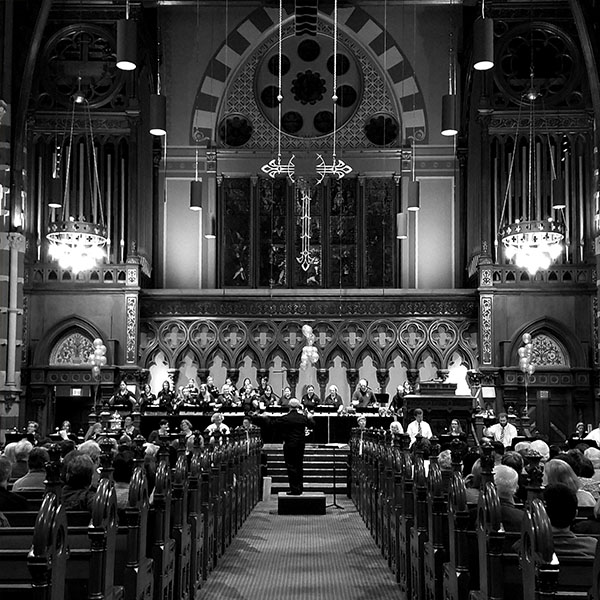 Boston has a unique connection to the history of handbell ringing. In the early 1900's Margaret Shurcliff, a resident of Beacon Hill, brought back from a England a collection of eight handbells. Over the years her collection grew, as did her love of ringing. Her Beacon Hill Ringers, the country's first community handbell ensemble, became well know for their caroling at Christmas time as well as other performances throughout the year. Ms. Shurcliff's work promoting the art of handbell ringing culminated in the first American handbell festival in 1954. Festivals were designed for the purpose of "spreading new ideas and exchanging music techniques and information."
BBR was founded as the nation's first handbell ensemble dedicated to members and friends of the LGBT community, and it remains open and affirming for membership, board, and community. BBR is committed to preserving and promoting Boston's key role in the history of our instrument, and continue Ms. Shurcliff's work, by creating an organization dedicated to promoting handbell ringing as a unique musical art to be enjoyed by diverse audiences. Handbell ringing across the country is becoming increasingly popular through the efforts of professional and community ensembles as well as those affiliated with churches. Back Bay Ringers is proud to honor these traditions and carry them into the twenty-first century by exposing new audiences to handbells, in Boston and beyond.
For more information about the history of handbells in Boston, please visit the Nichols House Museum's page on Margaret Shurcliff.